All about the new collection "Rue des Mille meets Barbie"
If a few years ago they had told us that we would have designed a collection together with the most famous doll in the world, the one with which we all played, acted, dreamed... So if we had been told we were going to do a Barbie collection by Rue des Mille, we would never have believed it. Or rather, perhaps in the age of dolls, yes, we would have believed in it and would have jumped for joy. But when we grow up we pay less and less attention to dreams and when we manage to make one come true, the surprise surpasses any emotion.
Today that the collection of our Barbie jewels is finally out, the surprise has given way to happiness for having created a special edition with the world's number one fashion doll, a style icon that has never left dreams in the drawer. Because if there is one thing we have in common it is the passion for dreams and the determination to transform them into goals to be achieved.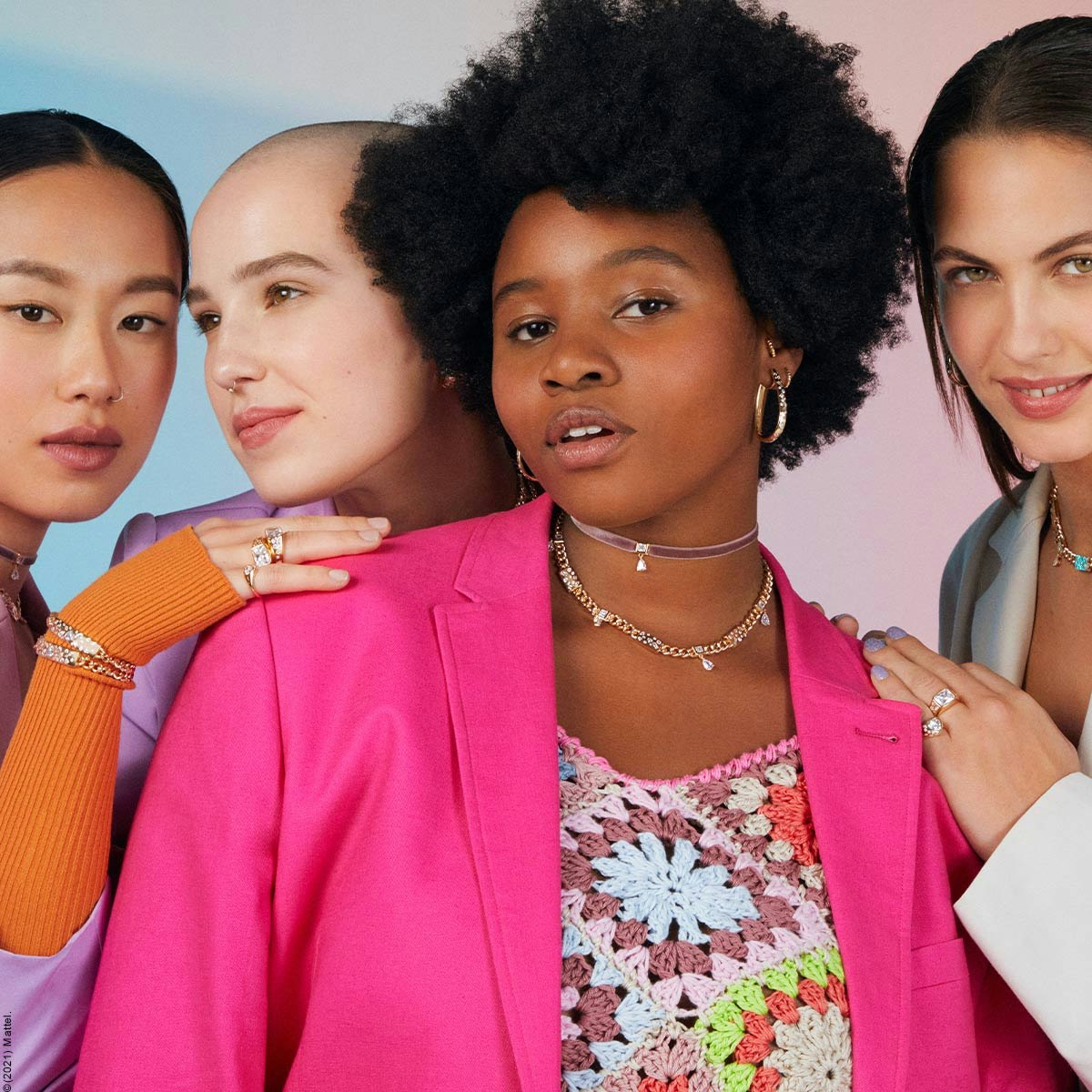 The Just as you are campaign
Rue des Mille has always accompanied modern princesses in their daily challenges, stopping memories, telling styles, illuminating objectives. Barbie has been inspiring little girls and girls to make their dreams come true since 1959. Two brands that have made dreams and personal fulfillment their mission couldn't stop at jewelry.
Together with the collection we want to launch a message of courage and determination to all the people who too often allow themselves to be overcomed by fears and insecurities, by the search for a perfection that is not only impossible to achieve but not even desirable, because it erases the beauty of uniqueness. A message that we have summarized with the words "Just as you are", an invitation to follow your dreams, whatever they are, whatever each person wants to be.
Giulia Stabile and the other faces
Dancer with a smile that illuminates her, a crazy talent, a tenacity and a sweetness that made all of Italy fall in love with her. Giulia Stabile is the digital ambassador of the entire campaign and is our perfectly imperfect, wonderfully unique modern princess.
With her, Sophie, Giada, Mara, Sofia, Sindiana equally authentic faces, which are the emblem of an aesthetic without barriers, where beauty is given by uniqueness and an invitation to go beyond taboos, banalities, defects, prejudices and living one's image with a rebellious awareness, without ever abandoning a touch of irony.
The Barbie Box and other curiosities
We could not fail to introduce this special edition to friends and influencer friends. To do this, we created a Barbie Box and played with some clues to make people guess the collaboration with Barbie before unboxing. In preparing the clues, we realized that, dreams aside, we have many things in common with Barbie, born Barbara Millicent Roberts.
Like us, for example, she has a large family with three sisters: Skipper, Stacie and Chelsea. Her first stage dress is a black and white striped swimsuit, very much in line with ours Jungle Tribe. We both love animals, we do with Taro&Friends, she does with all those she met during her adventures around the world: cats, dogs, horses, pandas, lion cubs, zebras and even dolphins.
The Rue des Mille meets Barbie collection
To design the special edition Rue des Mille for Barbie we were inspired by her jewels and we mixed her style with the Rue des Mille taste and style. The result? A collection that plays with the most classic shapes of the jewel (choker, band rings with zircons, others in rectangle or heart-cut, the octagonal emerald) made unique, however, by details more current and innovative such as the use of the maxi stone, or the mini me pinky chevalier ring with the heart symbol that combines the tastes of mothers and those of their children.