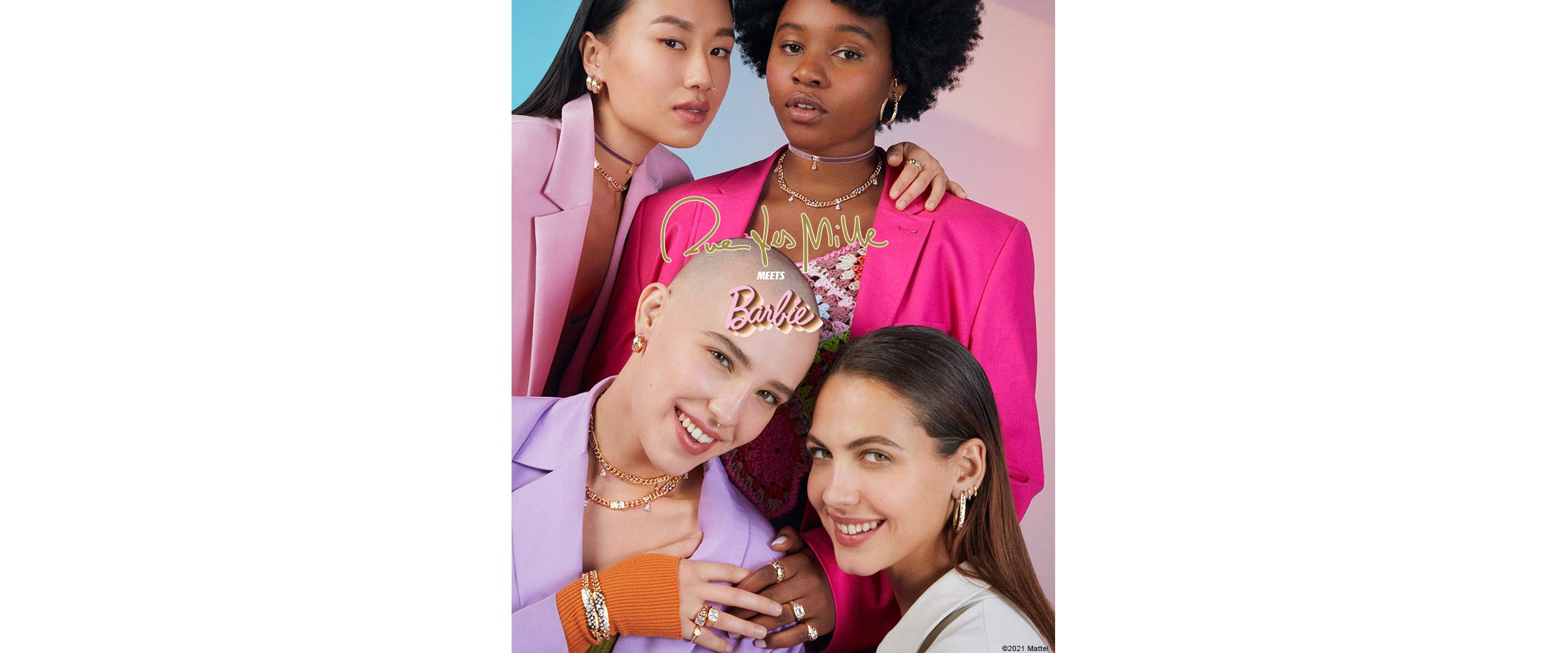 We met the most famous doll ever and had the honor of transforming her jewels into a special collection to wear.
It doesn't matter the age or the colors, it doesn't matter your style or your taste, Barbie encourages everyone to pursue their dreams, whatever they may be.
You can be anything you want.
Just as you are.
Giulia, Sophie, Giada, Mara, Sofia, Sindiana and many other spokespersons of the message "Just as you are" are following us to this direction. It is an invitation to shine beyond prejudices and insecurities. To be as you are, with your "SIGHs" and your "WOWs", perfectly, uniquely, beautifully you.

GIULIA
"With dance I really hope to give strength to all those who have a crazy desire to make their dreams come true but still don't believe in themselves. In the end, perfection is overrated. It is only a part of the story. In the whole story there is you, with your strengths and your weaknesses, your gifts and your defects, the full and the empty, the talent and all the work to be done to achieve what you aren't yet. Perfection is what you want but it is imperfection that makes you what you are, that allows you to stand out and shine. Unique, unrepeatable, imperfectly perfect. "
MAKE YOUR DREAMS COME TRUE
SINDIANA
"After school I do a lot of sports: dance, skate, swim. When I can I ride my bike. I really like music and I take acting lessons. In my free time I sometimes go shopping. I like to do many different things and learn new stuff."
Wear the mini me ring
SOPHIE K
"I study contemporary art and practice it in the form of video art, sculptures and performances. Among my passions, there is also acting and styling. I try, through art, to contribute to the empowerment of women. "
EMBRACE DIVERSITY
MARA
"I study Communication Sciences but I also work as a babysitter and sometimes in work a disco. I love cooking and I enjoy customizing clothes. Both things make my creative side shine. "
THERE'S A DIVA IN YOU
SOFIA
"I'm a stylist, I love playing with my look, changing different wigs and styles every day. Showing myself and to the others new sides of me makes me feel free. "
WELCOME ALL YOUR SHADES
GIADA ZHOU
"I study Intercultural Communication in Milan. I have no specific hobbies, I like a little bit of everything, the news stimulates me. I consider myself sporty, I have practiced competitive swimming for years, I love R&B music and having been born and raised in Florence I am passionate about art, especially the Renaissance one. "
DO NOT LEAVE YOUR DREAMS