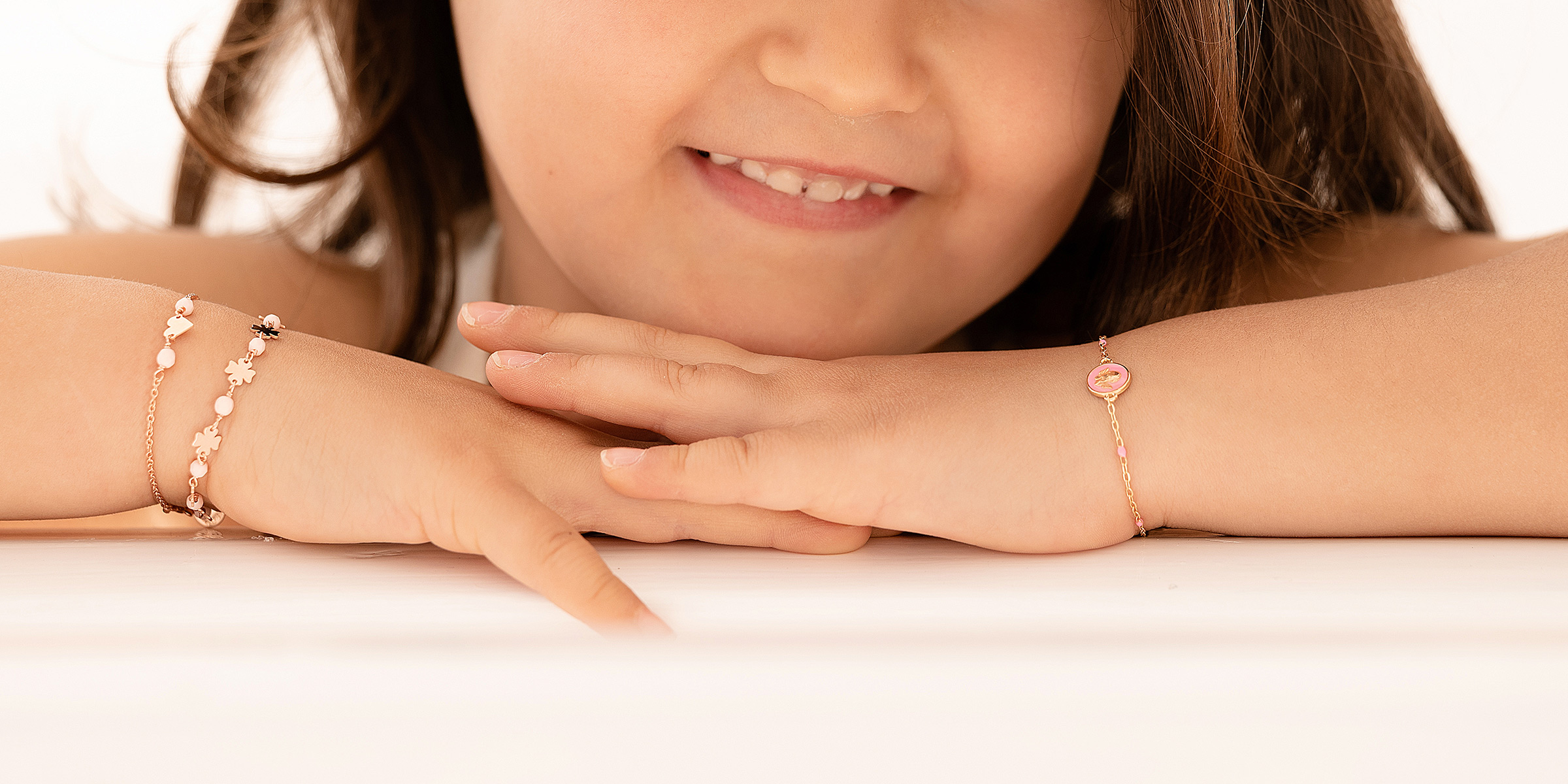 We celebrate an extraordinarily precious news
Baptism is the perfect opportunity to welcome a baby with a gift that is as symbolic as it is precious.
In fact, baptism jewels can represent a wish, tell a story, celebrate a bond.
To facilitate the choice, we have made a selection of gold and silver jewels with gold galvanic, where you can find both baby jewelery and baby jewels.
But also gift ideas for the baptism godmother, gift ideas for the godfather and more.
Golden welcome
Gold Baptism Jewellery Delightful chubby feet, but also little angels, personalized letters and words, to celebrate a special name. These and many other subjects in 18-karat gold and ethical diamonds are a traditional but at the same time very original and lovely gift, because they are mixed with chains and other colored materials: fluorescent pink, light blue, white, total gold.
Discover more
Special match
Silver baptism jewellery Protective angels and lucky four-leaf clovers, hearts, carriages and rocking horses, but also a special match of identical jewels, bracelets or necklaces in maxi and mini versions, to celebrate the strongest of bonds. Also in this selection you can choose from many different colors.
Discover more
Sweet thanks
Godmother jewelry Among the gift ideas for the baptismal godmother, jewels are always a much appreciated choice, because they perfectly represent the value of a precious bond, enclose the memory of a memorable day, give thanks for the commitment of care and love towards the baby.
discover more
Strong Bond
Godfather jewelry Bracelets, necklaces but also single earrings, crosses, a mix of stones, tags, studs, ropes and fabrics, when you think of gift ideas for the godfather of baptism, ideas are often limited. In this selection we open the horizons to an entire collection made to celebrate the closest ties.
IL PADRINO
Let's celebrate!
A party to celebrate pregnancy is a golden opportunity to make precious little gifts to the expectant mother. If you are looking for jewelry for your expectant friend, all the bells are perfect, as they cradle the oncoming baby with their tinkling, but also the special Mini-Maxi Io&Ro matches.
DISCOVER MORE